Flowers are a great way to not only improve how your space looks, but also fill it with a pleasant scent to freshen up any room. They come in all different colors, different sizes, and come in a wide range of styles, and even have different meanings behind them. Some are great for signifying romance, while others may symbolize pride, friendship, passion, or even sorrow.
No matter the likes or dislikes of a person, there is certainly a flower out there that they will love. As a result, it is no surprise that they have been given as gifts for thousands of years and this shows no signs of stopping anytime soon.
But what are some good reasons to give flowers to your loved ones? When are the best times to give an arrangement or bouquet to your mom, friend, significant other or sibling? Well, that is exactly what this article is going to take a closer look at.
To Celebrate a Special Occasion
The first reason to give flowers to a loved one is to celebrate an occasion of some kind. This could be to celebrate someone graduating, getting a promotion at work, having a baby, retiring, and just about anything else. They are a kind gesture that everyone is sure to appreciate.
Of course, flowers also make a timeless Valentine's Day gift and can be given on anniversaries, for Mother's Day, and even on birthdays if you so choose. Also, if there is another holiday that is important and/or related to your loved one, that is another good time to give a gift.
For example, if your loved one is a nurse, you may decide to get them some flowers on National Nurse Day. Flowers can be a great way to show someone you are proud of them for their achievement, or are thinking about them on a certain day.
When it comes to flowers, you don't want to get them too early, so have a plan to get them on the day of or the day before the occasion, to ensure they are fresh. However, if someone is about to leave for a while (such as a honeymoon the day after a wedding) you generally want to avoid getting them flowers, as they will hardly be able to enjoy them at all.
Another reason to give flowers is to show your sympathy. When a terrible event like a job loss, loss of a pet or death in the family occurs, it can be hard to find the right words to show your support and love for another person. They are going through a lot, as dealing with any sort of major loss like this can be traumatizing. Flowers are a great way to show your support without having to say a word.
Flowers can be very uplifting and help boost a person's mood, even just for a little bit. In addition to flowers, a kind and positive note can also make a world of difference. While flowers are amazing, a note can often make the gesture a little more personal and let someone know that you're always there for them if they need it.
Every time they see the flowers, they will be reminded of you and how you were there for them during their time of need. If you are ever in need of a friend to be there and be sympathetic, you can be sure they will return the favor.
Sometimes, there is no need for a specific reason to give someone flowers, and it can simply be done to see them smile. Whether they are experiencing a rough patch in life, or you just want to show your love and be kind, flowers are a great way to do so. They are also affordable and easy to find, all year long. They are a great gift and don't take a lot of effort to find, wrap and give to your loved one.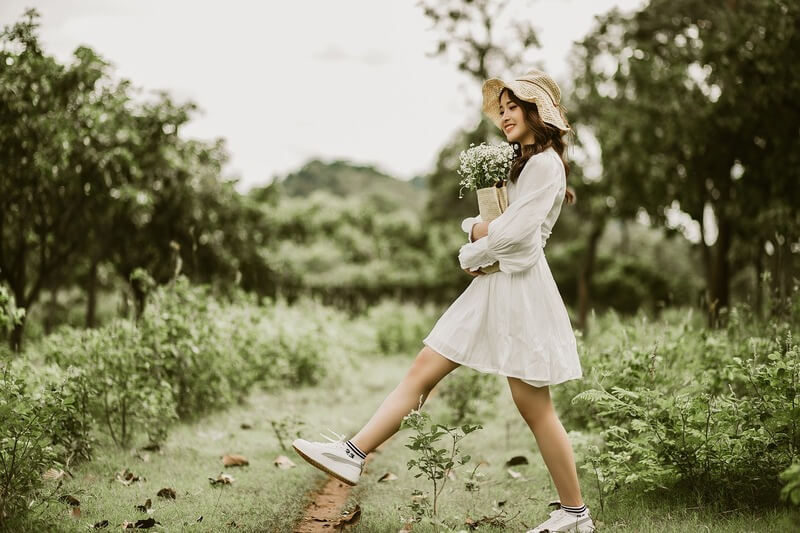 No matter when they receive them, people will be happy to get flowers and will gladly put them on display in their home or office. This goes for your mother, your significant other, your friends, or even a coworker. They will be excited to show them off and be reminded of you every time that they see and/or smell the flowers.
Of course, some flowers can be bad for those with allergies, so be careful to avoid certain flowers if your loved one is allergic. If not, you won't be putting a smile on their face, but sniffles in their nose and tears in their eyes.
To Give Someone Well Wishes
Giving someone flowers is a great way to give them some well wishes during a time of need. If they are homesick, suffering from a disease, or in the hospital for other reasons, sending flowers is a quick and effective way to show you are thinking about them and hoping they get better.
Like when giving flowers for sympathy, you can also leave a kind note of encouragement to show them that you're in their corner. Some people may feel hopeless when they are sick or suffering from an ailment, and your thoughtful flowers and note can help them remain positive and strong in the face of their health concerns or adversity.
Of course, in these cases, you generally want to avoid giving a huge bouquet or arrangement. Other people will likely be sending them things, and you don't want to take up a ton of space. Also, if they are in the hospital, those rooms are relatively small and as such, they may not have a ton of space for a ton of flowers or other gifts.
To Show Appreciation for People in Your Life
While giving gifts is often done to celebrate occasions or milestones, another great reason to give gifts like flowers is to show appreciation for others. In addition to your family, you could give them to your teacher, your hairstylist, and anyone in your life that you appreciate.  These people enrich your life, and you want to be sure to show them how much you enjoy or appreciate the things they do for you.
Everyone likes to be appreciated for the work they do, and receiving flowers can be a lovely and unexpected treat for these individuals. Of course, be sure to find the right flowers for the situation, and ones that they will enjoy.
Any of these reasons are great for providing your loved one with a bouquet or arrangement of flowers.