Instagram is the hottest social media networking site. It was a few years back that I started to take this medium more seriously. With a new startup on board, I did not know what to do to get more exposure. This is when I came across Instagram- an apt visual-centric platform.
With time, it has become a popular medium for brands to showcase their products and services. And, why not? The platform has almost 1.2 billion users, which means a massive pool of audience!
The facility to upload pictures, videos, reels, and stories automatically drive high engagement rates. There is no denying that people love visual content, which is why marketers and entrepreneurs use it to the full potential to grab peoples' interests.
As we have all moved our lives online since 2020, here are some winning Instagram strategies that can help your business flourish.
Make a striking business profile
The first step involves creating an eye-catching business profile that should be focused only on your brand's story. An essential aspect of your profile is Instagram bio. Make it crisp, social, and interesting enough to hook audiences.
When your audience visits your profile, they should figure out what the brand is all about. For example: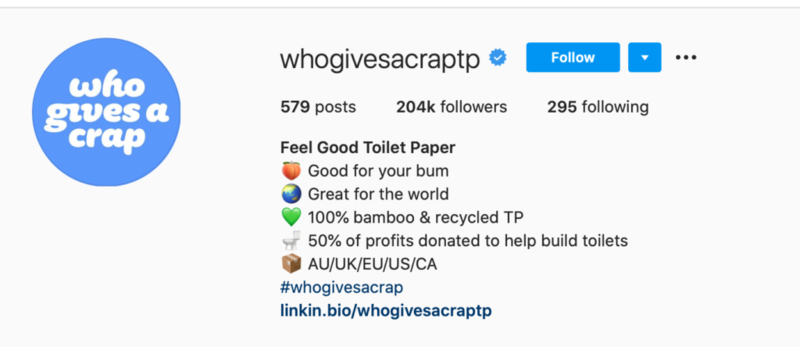 When you see the above picture, it becomes obvious that the company sells toilet papers that can be 100% recycled. Also, the bio is the only place where you can add YouTube links and a website. So, use it judiciously.
Do you want to keep your audience confused? NO, right?
The best way you can make your brand easy to find is by adding location. Without location, your audience will wonder where you operate and from where to purchase your products/services.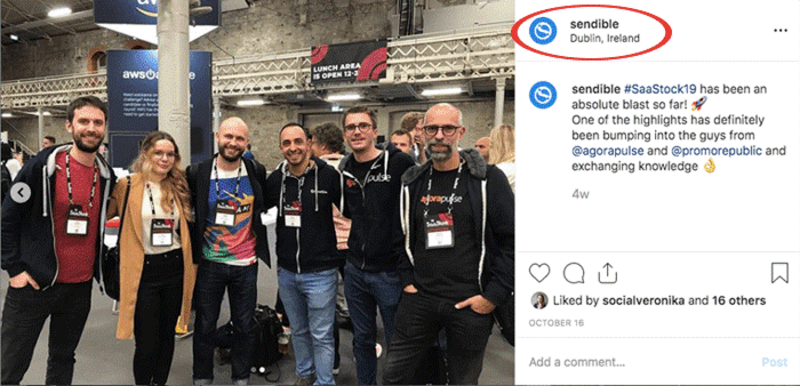 Your business should remain accessible both online and offline. The location tag gives more exposure and helps people find your business when searching for an item nearby.
Get authentic with your Instagram feed
Who does not like to stare at an aesthetically pleasing profile? It may be difficult for you initially, but it is an essential step that you should not skip.
For example, if you own a clothing brand, product images can make a significant contribution. In the case of owning a cafe or bakery, videos and reels can be immensely influential.
The feed must reflect the brand's tone and personality. Most importantly, be transparent and human to enrich brand value.
Do not forget about engaging captions!
Captions are the soul of your posts. Fresh and new captions are the key to get customers' attention, but it is not easy to craft a caption all the time.
Try something like this: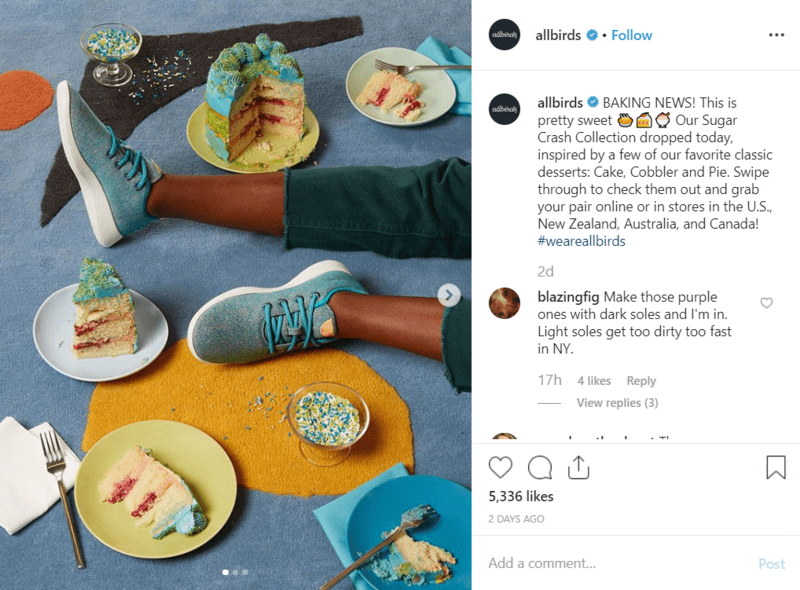 It is pretty clear from the caption that Allbirds has dropped their new collection of shoes inspired by desserts.
Be specific about your post whether you are announcing a new product launch or want your customers to attend a live sale; your captions must state that.
Focus on the target audience
Honestly, the section of the target audience differs for each brand. For instance, if you are selling gaming products, it would not be relatable to audiences from 50-60 years old; they are more likely to hit between the ages of 18-35.
Hence, it is imperative to find out which product attracts which category of audience. Use Instagram as a platform to make conversions by sharing the same visions and values.
It is a great initiative to research your competitors' strategies to understand how they promote on Instagram.
Are they posting a reel every day? Are they going live every Saturday? Do they post content at a particular time? Are they using relevant hashtags?
Through your constant monitoring, you can gain new insights into their marketing gimmicks and find new ways to improve yours. Check the performance metrics of your post and see what is well-liked by your audience.
Hashtags, hashtags, hashtags!
If you still do not know the importance of hashtags in Instagram, you miss a big chunk in social media.
In a nutshell, hashtags help people to track the content they are searching for on Instagram feed. It is why you need to use hashtags strategically so that more people can find your post and visit your account.
Suppose you have a spa business in London. The relevant hashtags you can use are- #spatherapyinLondon, #spasession, #beautyandspaLondon, #spasoothingsession, #newspabusinessLondon, and etc.
Here is an example for you: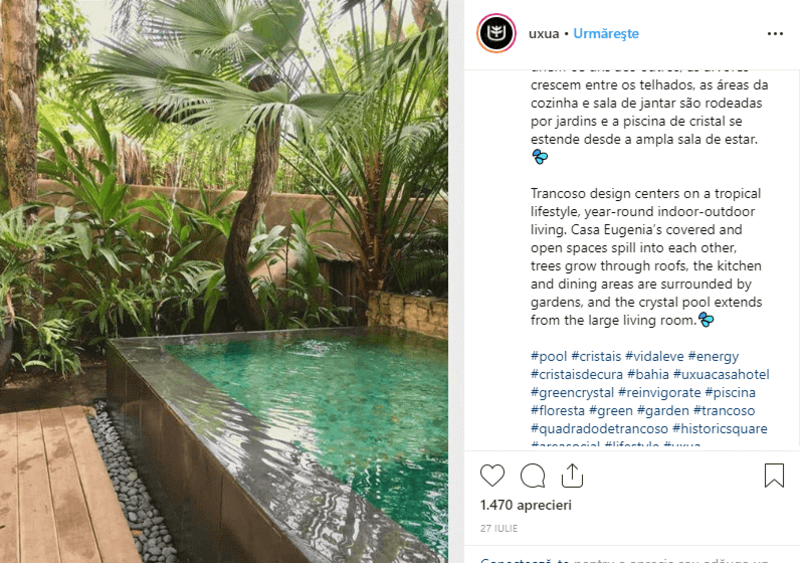 To get some positive results:
Include two to eight hashtags in every post.
Always use those hashtags that are more frequently typed to search for an item.
Do not forget your specific set of audience.
Incorporate hashtags that can be relevant to your audience.
If you are targeting a local market, add location-based hashtags to your post. Either use them in the comment section or the caption as it deems fit.
Carousel posts always lead to a higher impression rate. If you have not heard about it, it is nothing but multiple images or videos uploaded together. You can view them by swiping left.
You can use carousel posts to show a product's different features in ten different angles. Suppose you are selling an ergonomic chair for gaming purposes; you can flaunt its body, lumbar support, reclining function, and base in ten photos.
Create amazing Instagram stories
On Instagram, you can upload incredible stories by adding GIFs, music, emojis, tag people, mention location and add hashtags. Stories contribute to creating brand loyalty, but your Instagram feed should also reflect the same to maintain uniformity.
To bridge the gap between your brand and the audience, you can utilize some of the Stories features like, poll, 'ask a question,' and quiz.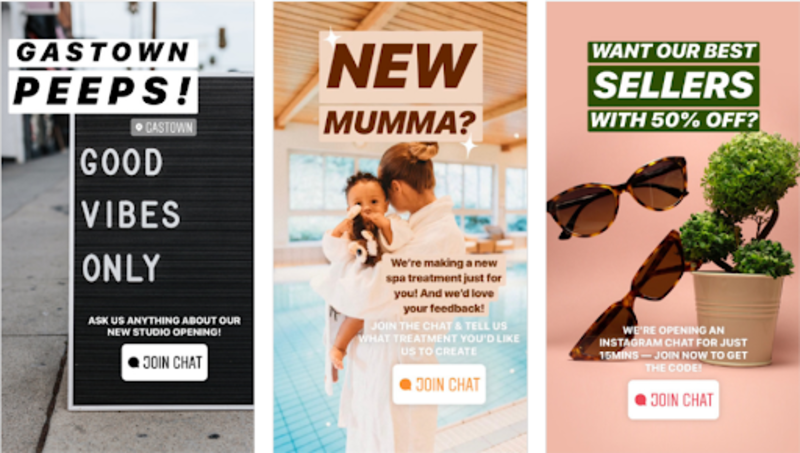 Plus, you can tailor marketing strategies as per audience needs and interests. The simple way to do it is by asking questions and suggestions. When the audience starts interacting with you, they get to know more about your business and products.
You need to realize what kind of content works for your business. For example, you can upload makeup videos for selling beauty products and show how the brushes work. Or, for educational/training purposes, you can conduct live sessions.
Check the Instagram Insights to know which content is pulling the maximum audience and engagement and upgrade it to get more followers on Instagram.
Final thoughts!
Whenever you plan Instagram strategies, do not hesitate to think out of the box! Social media is invariable; hence you have to constantly upgrade ideas and evolve to meet your audiences' expectations.
Moreover, social media algorithms keep changing- whatever worked for you last week may not fetch good results the following week. Keep yourself up-to-date, research every day, upload user-generated and friendly content, and you can see yourself succeeding.
If you are unsure which way to go, take the help of this guide and make use of the abovementioned ideas. You can indeed find the right strategy for your business success.