We all find ourselves snapping pictures of our scrumptious plate at a restaurant before even taking a bite. It's all for the gram, indeed! But if you really want to take professional photos for your food blog or social media pages, congratulations, you do not need a professional DSLR camera.
Nowadays smartphones are manufactured with the finest camera quality that facilitates the extraction of the light and detail available in a frame and turns an ordinary picture into a professionally clicked snap.
However, there are various apps on the app store that further assists you in taking wonderful pictures for your social media feed. We have curated 7 of the best food photography apps for foodies who want to create and edit pictures in the most stunning and professional ways.
1. Foodie-Camera For Life: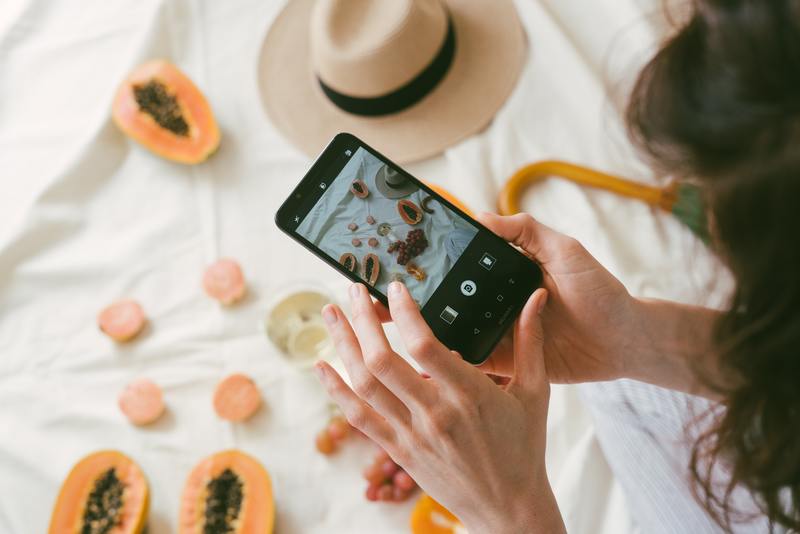 This app is great for creating and editing your pictures as it offers a wide range of filters free of charge. The graphics involved are professional, smooth and beginner-friendly. The app also offers guidelines on how to take the best photos from different angles.
If you wish to take short videos, it is possible through this app which also features a quiet click feature. Overall, this app is amazing for socially active foodies and food travelers.
Available on IOS and Android for free.
2. Snapseed:
Snapseed is a wonderful app catering to all your editing needs. It has Powerful tools that transform your picture. For instance, Snapseed features a 'healing tool' which helps in erasing any splashes of food stains in the background.
Accordingly, you can adjust the brightness, sharpness, saturation and sharpening of the picture. If you want to add extensive details in your picture and edit selectively, this app perfectly fulfils the purpose.
Available on both iOS as well as Android for free.
3. Adobe Lightroom: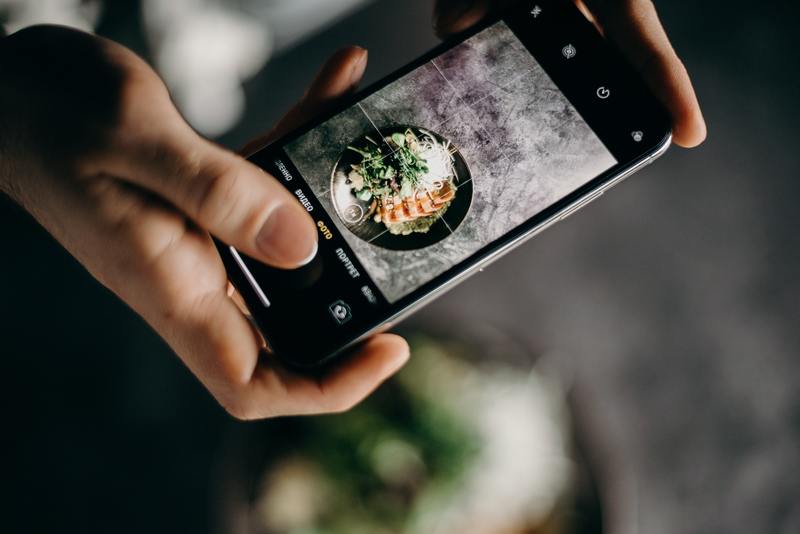 This powerful app by Adobe offers a step-by-step guide for beginners and assists professional photographers by directing them about basic tools and features available on the app. These tutorials promote skill learning and guide you through different features and tools that can enhance your image.
You can choose the best filter, adjust brightness and contrast, balance color tones, crop and adjust angles and tune even the finest details.
Adobe Lightroom is for anyone who wants to take regular photos to an enhanced high-resolution professional picture.
Available free on iOS and Android along with in-app purchases and premium plans starting from $1.99
4. VSCO Photo & Video Editor:
VSCO involves great filters for editing and creating aesthetic images. The app is neatly organized and very user-friendly with minimum icons and tools but effective features. VSCO also offers a guidebook on how to apply and effective adjustment to an image.
VSCO is the perfect tool for creating an aesthetic social media or website feed with less complicated editing and easy and quick application of filters.
Most of the filters are free however, a seven-day free trial is offered post which a yearly VSCO premium plan costs $19.99.
5. Adobe Photoshop Express:
Another app from Adobe comes with great edit features. The app offers tools where you can adjust brightness, contrast, exposure, highlights, clarity, resolution and many more using simple user-friendly sliders.
For food photography, adjusting the white balance, temperature and dehazing, it can enhance the picture without losing its original resolution.
The healing feature and quick fixes offer simple adjustments and removing unwanted elements and correcting distorted angles in the picture.
Make sure you are not over editing as it may look unnatural and artificial.
This app is great for making light edits and enhancing the overall exposure of the image. Available free on iOS and Android with in-app purchases starting from $2.99.
6. Pixlr:
Pixlr app is a great photo editing app With various free effects and filters. The adjustment tool in this app provides an extensive palette featuring auto-fix as well as manually adjusting vibrant, saturation, tint, brightness, exposure, contrast, blacks and whites.
The vibrant tool enhances the natural colors of the image whereas the temperature and tint tool allows you to add an extra highlight and enhance the color.
With the exposure tool, you can adjust the white balance so that the picture looks natural. If the picture has been taken in a lowlight, the adjustments can be made using this app by adding highlights and adjusting shadows.
Available both on iOS and Android with a premium plan that starts at $1.99 monthly.
7. Geulgram:
If you want to add interesting captions on your photos, Geulgram is just the app you need! It is a text-on-photo app that comes with various stunning fonts, effects and formats.
Perfect for adding a quote, a caption, location, price or the name of the dish and post it on your feed or Pinterest.
This app is only available on Android for free.
Expert tips on food photography skills
Clicking a good photo is what makes an amateur photographer different from a professional one. However, we have brought you some tips and tricks that can help you take stunning professional photos using your smartphone.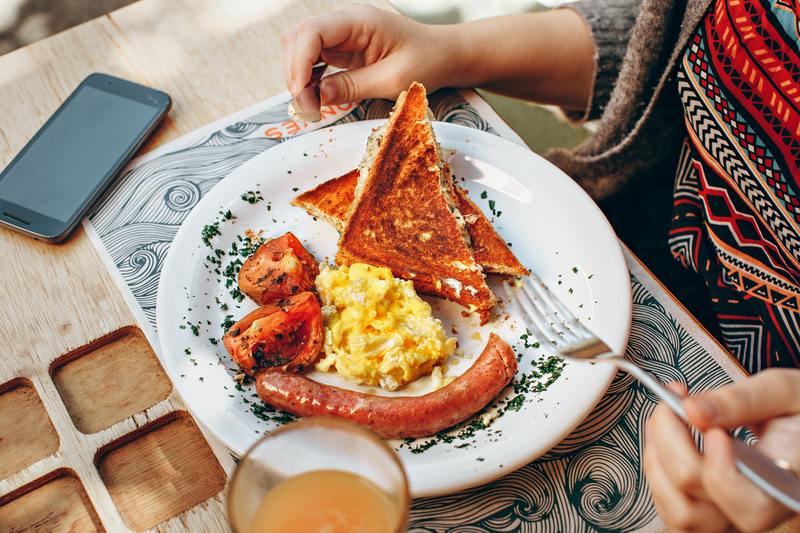 Always try to use natural lighting while clicking a photograph. Artificial lighting compromises the natural colors of the picture distorting the resolution.
Add some aesthetic props. A picture that has a tempting dish at the center of the frame can be enhanced by adding relevant props in the background to highlight the overall aesthetic of the picture.
Apply the 'Rule of Thirds'. When we move into the technical part of clicking a good picture, keep in mind, the rule of thirds. According to this rule, a grid of three horizontal lines and three vertical lines must be used to compose the shot. The primary and central element of the picture (the dish) must be positioned in the center squares where the lines intersect.
Shoot the picture in the perfect angle. The angle can play a major role in determining the organization of your picture. The focus angle must be to lick the dish even though there are props around. When using a professional DSLR, it is possible to highlight the image and blur the background. Thankfully, this feature is also available on editing apps.
Tell a story through your image. Connecting with your audience through a picture is the ultimate essence of a good photo. Use your aesthetics in such a way that it conveys a story. For instance, if you are clicking a picture of a lavish coffee, add in an extra element of friends holding hands or a hand holding a cookie.
The Takeaway
These apps offer a great tool for clicking as well as editing food pictures taking ordinary, simple clicks to a higher resolution, professional image. In fact, these tips and apps can be used for all kinds of photography such as capturing photos of a 
Soul Healing
 session or a Yoga session. By testing these apps, you will reach a conclusion as to which app meets your aesthetic and editing requirements. Finally, play with different features and tools to pop up your food pictures for a blog or social media!