Flying in the first class section of a commercial passenger plane, turning left when you enter the plane instead of right, takes you into another world. The best food, the best wine and the best service.
But what it's really all about up in the pointy end of the plane is your seat, and these days that doesn't mean just somewhere to sit. You virtually have your own private cabin that is cleverly designed to facilitate sitting, eating, working, watching films and of course, sleeping. Ah, sleeping. Stretched out and lying flat style sleeping. Bliss.
Like Garuda, Cathay Pacific has an air of the exotic east about it. Understated service that doesn't miss a beat is par for the course. The sumptuous seat collapses into a fully flat bed with quality linen, big pillow and duvet, large screen TV, quality sound and your own private restaurant quality kitchen at the ready. Relaxing and finished with a touch of sophistication, your own bit of air space will keep you insulated from the rest of the world in style.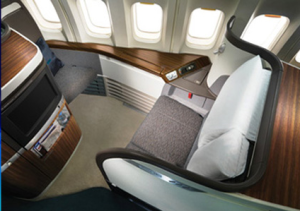 Garuda Indonesia First Class offers large, fully flat beds with partitions that are higher than average providing you with real privacy if that's what you are after. The lighting, storage, bed linen and sleep wear are all excellent quality, the service superbly attentive and the food and wine up to scratch. An exotic alternative to some of the better known brands if the flight schedules match your requirements.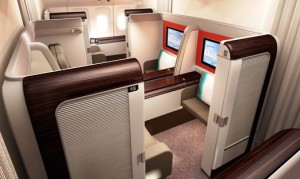 United Global First for international flights keeps United in touch with the best in the business. The lie flat bed is a full 200cm (6ft 6in), the fit out, bedding, cuisine and extras are all there. Lacks the polish of the leaders but you won't be uncomfortable, that's for sure.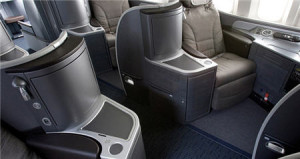 Thai Royal First Class was a category leader when it was first released and their A380 first class seats keep up the pressure on the rest of the pack. There is loads of room, excellent cuisine and wine list. The service is where they have most often led the way and this continues to be a real strong point. A great service.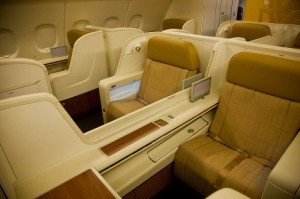 Lufthansa First Class features the latest 200cm (6ft 6in) super-sumptuous flat beds, quality linen, pillows and duvet, LCD TV and (as you would expect) a great Bose sound system. The sumptuous food and wine is served on a crisp white table cloth and quality crockery and cutlery adding to the ambience and enjoyment. The partitions could perhaps be a little higher, but overall this is a great set up.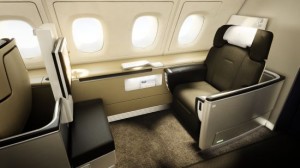 The Swiss First Class suite is absolutely top notch and it doesn't really hurt that it looks like it was designed by Ikea. Ok, it's beautifully finished with lovely blond wood and cotton bedding, but there's something very ergonomic about it. A little bit sterile perhaps. Still, the 200cm (6ft 6in) bed and privacy panels make this a true getaway in the sky. Yes, they do serve Swiss cheese along with a great range of gourmet delights and world renowned wines.
The Qantas First Suite is a little smaller than Singapore and Etihad, but still a generous 200cm (6ft 7in) plus. Luxury bedding, pillows, blankets and duvet are topped off with a sheepskin mattress cover for extra softness and temperature regulation. TV screens are also a little smaller than the top two airlines but there is plenty of content, noise cancelling headphones and personal telephones. You are treated to 100% cotton loungewear that includes a cotton jumper, two piece pyjama's (sleeper suit) and slippers. SK-II personal care products top off the amenities.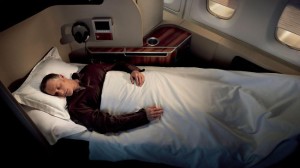 Check out the plane taking off. And the menu. And the electric window blinds…
Etihad's Diamond First Class is exceptional. You essentially have your own private cabin fitted out with leather from Poltrona Frau (who supply Ferrari), silk fitted sheets, a cotton duvet, full sized pillows and blankets, a 23 inch TV, noise cancelling headphones, connectivity for all your personal devices, a personal mini-bar and wardrobe with your own loungewear. You also have a personal chef and access to a luxury changing room complete with large wash basin, full length mirror and personal care products from Swarovski and La Prairie.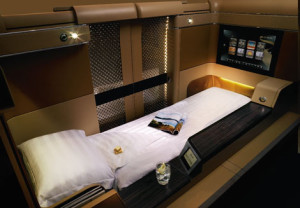 The New Singapore Airlines first class seats were designed in conjunction with DesignworksUSA, a design consultancy that is part of the BMW Group. The results are pretty special. You get everything from well thought out lighting, a 24 inch TV and Bose sound system with noise cancelling headphones, USB and HDMI inputs so you can access your own files, sculptured cushions and enclosed headrest for privacy, beautiful linen, pillows and duvet, tableware designed by Givenchy and of course food and wine from the best in the world. As long as you are not more than 208 cm's tall (nearly 7 ft), you will be able to lie flat without touching anything. This is pure luxury.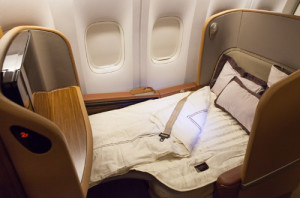 The Emirates First Class cabin is very private. You can really seal yourself off from the outside world and enjoy total seclusion. The flat bed comes in at 198 cm (6ft 5in) so there is plenty of sleeping room. Your suite is beautifully fitted out with a plush ambience. The 23in TV and quality sound system will keep you entertained, the fine linen warm and happy, and your personal mini-bar refreshed. Want a shower? Not a problem. The Emirates 'Shower Spa' in the marble and walnut bathroom makes it possible. Yes, a stand up shower, although it does have a 5 minute limit. But wait, there's also a heated floor when you exit the shower. Wow. Exquisite foods are served to you on Royal Dalton fine bone china and you will eat the gourmet delights with Robert Welch cutlery. Emirates have always had a certain elegance about their fitout and service and this still shines through. The shower really nails it though. Unique.