It is no secret that when talking about search advertising, Pay Per Click (PPC) leads the way. This is because PPC is one of the most cost-effective and proven methods for generating a continuous stream of leads for your business. Still not convinced how PPC can help your business achieve its lead generation and branding objectives? Have a look at the numbers yourself!
According to Formstack, around 17 percent of marketers revealed that they leverage PPC ads for lead generation.
A study conducted by the Statista Research discovered that search advertising on mobile is expected to increase to $22.8 billion in the year 2020.
According to the search engine giant, Google, search ads have the power to increase brand awareness by as much as 80 percent.
However, many small businesses are wasting their hard-earned money on PPC ads – not because they aren't working out for them, but they are using PPC the wrong way.
Are you too struggling due to the unsatisfactory results of your PPC campaigns? Don't worry, we have your back! Here is how you can improve your digital marketing efforts, and generate skyrocketing conversion rates on your PPC campaigns:
Pay Attention to Your Content:
Due to the growing popularity of PPC ads, some marketers believe that setting high bids, and running multiple ads are enough to get desirable results. However, that's not always the case! Instead, as a wise marketer, you should always remember that content and PPC ads go hand in hand if you're willing to take your lead generation game to the next level.
Besides this, if you're running a small business, then it is essential to note that PPC ads aren't enough. This is because you need to educate your audience, and establish brand identity among them so that they know your brand when your ads appear on their search results. Wondering how to go about it? Simply by paying attention to the content that you produce.
And that is why, according to the State of Inbound Report, around 53 percent of marketers identified content creation as one of their top priorities.
Here are a few expert tips that can help you create engaging content so that it can complement your PPC marketing efforts effectively:
Use your best and most enticing headlines in your PPC ads for driving the CTR.
Optimize your content for SEO, and ensure that your focus keyword is present is placed correctly.
Make sure that your content reflects your brand voice.
Try to answer your customer queries through your content.
Make sure that the text of the CTA buttons encourages the audience to take an action.
Leverage content remarketing techniques for encouraging brand recall.

Focus on the High-Performing Keywords
If you are running PPC ads for a long time now, you'd know that the right set of keywords help your audience know whether your ad copy is relevant or not, thus impacting the quality score, CTR, and conversion rate.
So, if you think your PPC efforts are going down the drain, you should try to implement an end-to-end keyword optimization strategy. This would involve focusing on the high performing keywords for attracting the relevant target audience.
However, the real deal is identifying the most valuable keywords. How do you go about it? The simple answer is by using Google Analytics, you can identify the high-performing keywords.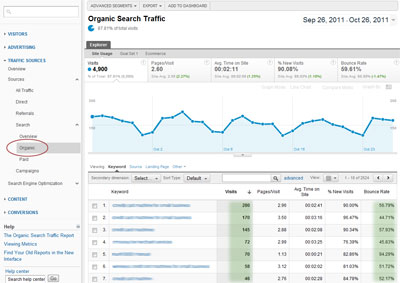 Don't Forget to Add Negative Keywords Regularly
It is no secret that getting high traffic on your website is one of the top priorities of many small businesses. However, getting relevant traffic is a must for high-quality lead generation.
Unsure how to go about it? The simplest way of getting relevant traffic is by adding negative keywords regularly. This is because it helps improve your CTR, and save money as your ads won't run against any irrelevant search queries.
For instance, the image below shows that your ads won't show up if a searcher enters the keyword 'running shoes'.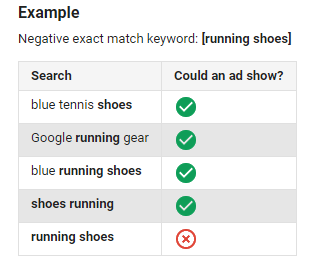 Pause the Low-Performing Keywords
It is significant to note that not every keyword that you add is bound to work. However, the good news is that PPC offers a fountain of data based on which you can identify and pause the low-performing keywords in your ad campaigns.
All said and done, it is critical to take into account that you should do your homework well before pausing a keyword. This is because your keywords might be low performing due to one of the following reasons:
The keyword bid that you've set is not high or competitive enough to attract the desired audience.
The keyword that you've added might be too long-tail or complicated that people are not using it in their search queries.
The match type that you've selected, along with the keyword might be too narrow or too broad.
So, if you're looking to take your PPC game to the next level, it is essential to note that you're pausing the low-performing keywords in your campaigns the right way.
Ensure an Organized Account Structure
Are you looking to achieve stellar PPC performance? One of the best practices is to ensure a strong and organized account structure. You should start doing your account's audit by answering the following questions:
How many keywords should be there in each ad group?
How many ads should be there in each ad group?
What is the level of relevancy among the keywords within an ad group?
Once you have answered these questions according to the best practices of Google, you'd know how to organize your Google's ad account. Besides this, it is best to have a handful of campaigns focused around each location, product, or theme, to avoid clutter.
Optimize Your Content for SEO
According to a study conducted by the HubSpot Marketing, around 64 percent of marketers mentioned that they actively invest in SEO.
It is an undeniable fact that SEO is crucial to make your digital marketing efforts, like PPC, social media marketing, content marketing, etc., work, especially if you're running a small business. This is because it helps your content appear in the top search engine results, thus boosting your CTR, and conversion rates significantly.
Apart from this, SEO helps your business in building brand awareness, and credibility among your target audience.  However, SEO trends and best practices keep evolving, thus making it difficult for small businesses to achieve the desired results.
So, if you want to leverage SEO effectively, you should get help from an SEO consulting company that can employ the best practices for optimizing your SEO efforts.
The Bottom Line:
In a nutshell, making your PPC campaigns work isn't an easy feat, especially if you're running a small business in an intensely competitive market. However, panicking in such a situation would only make your business suffer.
Therefore, if you want to excel at PPC, and stay ahead of the curve, you should experiment with the tips and tricks that we have mentioned above.  Besides this, it is crucial to note that to win the PPC game, you should keep an eye on the changing industry practices, and adjust your campaigns accordingly.